Protect Your Personal Data
iPassSafe provides top rate data security together with highly intelligent human interface management system for rapid access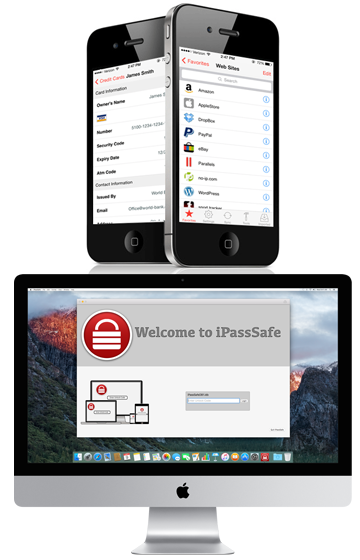 All the Data All the time:
Get iPassSafe to secure your data
Get this outstanding new iPassSafe application, that lets you secure your most sensitive data, such as bank accounts, websites accounts, address book, and more...
Features
AES-256 encryption to protect your personal data
Dropbox cloud - syncronize all your devices (iPad, iPhone, and iPod) to same protected database in a click, using
3G or WiFi.
FTP server built-in.
Login your bank account or other sites acount in ONE click (no ID, Password, or even user name is required).
Dynamicaly imports web sites icons.
Multiple database manager (each protected by own password).
Built in password generator.
Import contacts from Iphone's Address Book (including call or send mail directly via iPassSafe).
Unlimited record storage.
No advertisements.
Account creation is redundant when using this application.
User friendly graphical design.
Organized and Make-Your-Own text categories.
Password and user copy to clipboard option.
Self destruct option to protect data from unauthorized access..
Auto log out option protects data when end-user forgets to log-out.
Photos protect (direct from Camera or Photo's Gallery)

To download a
FREE Universal
version please
click here
.


iPhone Screenshoots